The Expedition Already Started…
Uummannaq, March the 20th

As every year, the cold did not last a long time. Temperatures went a little bit up to -25°C, even -15°C sometimes. Most important, the cold wind is rarely blowing so the big sun is almost every day sweetly heating our bodies strongly tied in so thick skin clothes.
Mannik and Oumiak, two of my dogs joined the dog team
Training young dogs

For the kids from the Children 's Home, the expedition already started. The first group has stayed in Uummannatsiaq for more than two weeks (read the last news) and the second group is arrived to Qaarsut, a small settlement located at 20 km from Uummannaq (click on "carte" in the "expedition" page in the French site to locate the settlement).
Some days ago, it was my birthday and I did it in the traditional way : it means a "kaffemik" which is a party at home where one can invite everybody to come for a cup of coffee or tea and two pieces of cakes. I still keep on helping Ole Jørgen to train the young dogs - they are pulling a sledge for the first time. It's always the most important part of the expedition preparation : making the dog team bigger with the new ones which are learning to pull with the elders. It's also a big mess because they don't know the orders yet and they can't follow the team all the time at the same speed, even run in the right direction… My three dogs joined Ole Jørgen's dog team. As Oumiak - a puppy I took care last year which still remains very wild. "He" is learning to pull a sledge with "his" mother Mannik.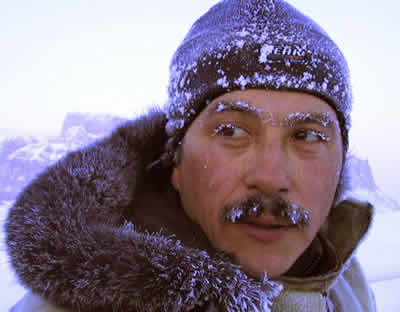 Ole Jorgen is watching the running dogs to keep control
In the coming days…
In the week-end, we should be ready because we have to join the two groups in the small settlement of Qaarsut. There, we want to see the great local dogsledge race next Saturday. The five best dogsledgers of the Uummannaq Bay will then participate next month in the great national race. Edvard Samuelsen - one of our expedition hunters - is close to be champion of Greenland again. But for now, another sport - more amazing up here - is taking over : there will be the "World Ice Golf Championship" in Uummannaq Wednesday. For the opening party of the tournament, Ole Jørgen and I did a talk-show about the "Inuit Culture" with a slide show telling about the last expeditions. Next week in the news, you might know everything about ice golf as well as the final destination of our expedition.

Jean-Michel, the author of this web site on the sledge, is wearing a traditional anorak, polar bear trousers and sealskin boots.